Community Shield vs Chelsea vs. Manchester City SUN, 05 AUG 2018
Info
Community Shield vs Chelsea vs. Manchester City played: SUN, 05 AUG 2018, Wembley Arena/Stadium

Please remember:
* Please, take into consideration that weekend soccer games may move between Saturday and Sunday and midweek soccer games may move between Tuesday and Wednesday, with very short notice. These changes are beyond our control and we ask that you be aware of this when making your travel plans!
* You will NEVER get any single seats. You will always get seats next to your friends, right in front or right behind your friends if you book together. This is our guarantee from us to you!
* You will always be seated among the home supporters or in a neutral zone.

Please read the information provided here carefully, as you prepare to complete your booking.

More information about available seating options and categories can be found below.
From $ 76.00
Category
•
Fast track Club Wembley entry to stadium, no queues
•
Premium padded seats with arm rests
•
Middle ring seating, together always!
•
Souvenir match program for football events
•
Access to Club Wembley bars and restaurants
•
Stadium opens 2.5 hours prior to event
•
No dress code ( football shirts not permitted )
•
Children and families welcome, relaxed, informal atmosphere
Hotel
HOTEL:
For matches at Wembley Stadion, we do sell Club Wembley Tickets included 2 nights(Saturday to Monday) or 3 nights(Friday to Monday) in one of the following hotels:

Royal National Hotel(**): Central London's largest hotel with 1630 rooms located near Russel Square. The rooms are basic but include all the necessary amenities. Free WiFi in the lobby. Breakfast is included in the price.

Kensington Close Hotel(****): Perfectly located near the shops of High Street Kensington. The hotel has a beautiful private garden, health club, spa and swimming pool. WiFi in all room(not free). Breakfast is included in the price.

Cumberland Hotel(****): Great hotel perfectly located near Oxford Street and Marble Arch. Cumberland is a modern and artsy hotel. Free WiFi at the hotel and in the rooms. Breakfast is included in the price.

Here you can book Twin rooms or Tripple Rooms.

Sometimes, but very seldom, we are advised that we need to change a hotel after the booking is confirmed. If this happens, we will always confirm a hotel of similar standard as the one you have booked, or better!

Your soccer tickets will be delivered to you when you check in at the hotel!

Like all booking of football tickets, you cannot change nor cancel football and hotel packages after you have confirmed and paid your booking!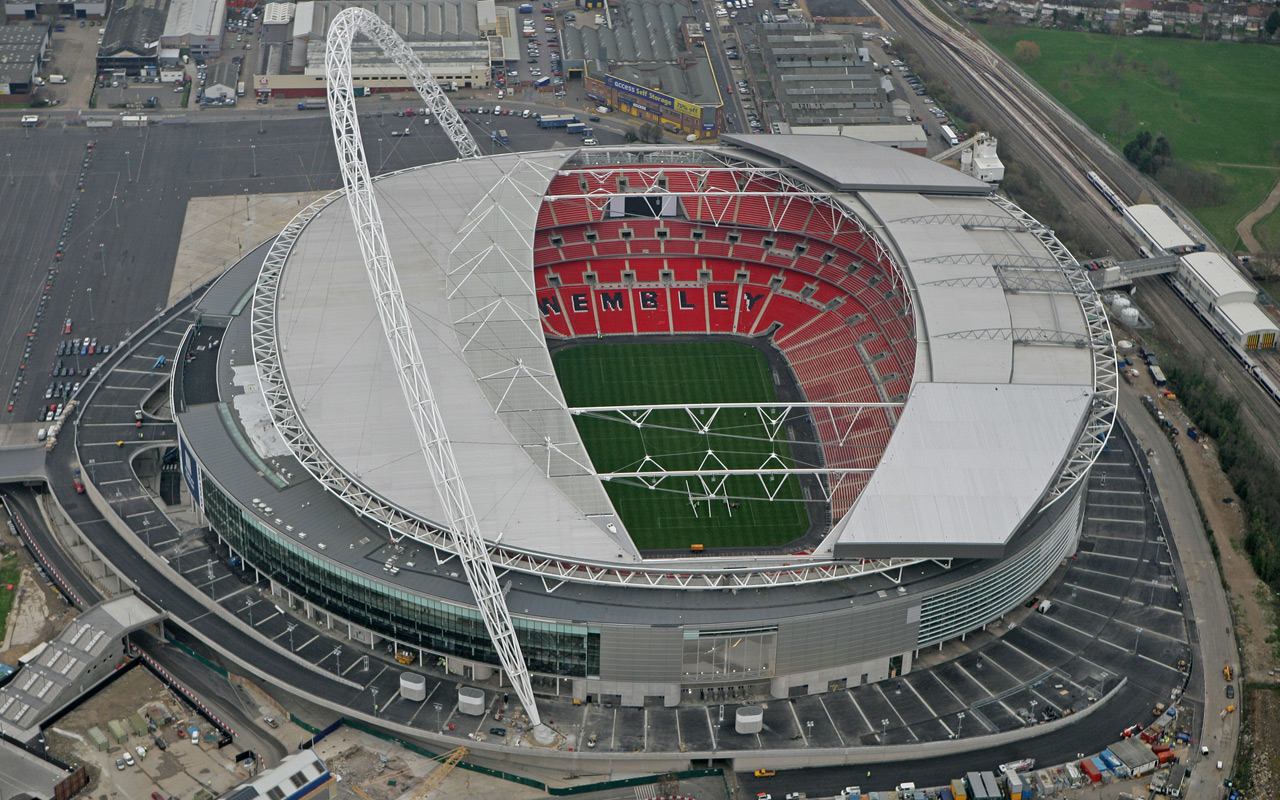 Venue info
Wembley Arena/Stadium
Capacity
90.000
Address
Wembley National Stadium
Wembley
London, HA9 0WS




View map
Metro
Wembley Park station (Jubilee & Metropolitan lines) or Wembley Central station (Bakerloo line)