FA Cup Semi + Final vs Team 1 vs Team 2 Final SAT, 19 MAY 2018
Info
FA Cup Semi + Final vs Team 1 vs Team 2 Final played: SAT, 19 MAY 2018, Wembley National Stadium

Please remember:
* Please, take into consideration that weekend soccer games may move between Saturday and Sunday and midweek soccer games may move between Tuesday and Wednesday, with very short notice. These changes are beyond our control and we ask that you be aware of this when making your travel plans!
* You will NEVER get any single seats. You will always get seats next to your friends, right in front or right behind your friends if you book together. This is our guarantee from us to you!
* You will always be seated among the home supporters or in a neutral zone.

Please read the information provided here carefully, as you prepare to complete your booking.

More information about available seating options and categories can be found below.
From $ 639.80
Category
• Fast track Club Wembley entry to stadium, no queues
• Premium padded seats with arm rests
• Middle ring seating, together always!
• Souvenir match program for football events
• Access to Club Wembley bars and restaurants
• Stadium opens 2.5 hours prior to event
• No dress code ( football shirts not permitted )
• Children and families welcome, relaxed, informal atmosphere
• Betting facilities
• Club Wembley Video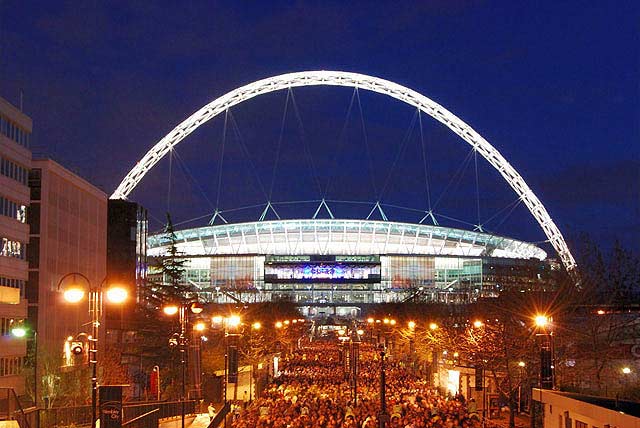 Venue info
Wembley National Stadium
Capacity
90.000
Address
Wembley National Stadium,
Wembley,
London, HA9 0WS


View map
Metro
Wembley Park station (Jubilee & Metropolitan lines) or Wembley Central station (Bakerloo line)
The season is over. Tickets for next season will be on sale in June–. Please check the website for details.