West Ham United vs Southampton SAT, 31 MAR 2018, 15:00
Info
West Ham United vs Southampton played: SAT, 31 MAR 2018, 15:00, Olympic Stadium

Please remember:
* Please, take into consideration that weekend soccer games may move between Saturday and Sunday and midweek soccer games may move between Tuesday and Wednesday, with very short notice. These changes are beyond our control and we ask that you be aware of this when making your travel plans!
* You will NEVER get any single seats. You will always get seats next to your friends, right in front or right behind your friends if you book together. This is our guarantee from us to you!
* You will always be seated among the home supporters or in a neutral zone.

Please read the information provided here carefully, as you prepare to complete your booking.

More information about available seating options and categories can be found below.
From $ 94.50
Category
SOUTH STAND:
-Our tickets are always on South Stand.
-Tickets will usually be in block 224/225 section, but in some rare cases, this will not be possible. You will then get tickets in another part of the South Stand.
-With our tickets, you have access to public concourse to purchase food and drink.
-The tickets are in home fan section, so please do NOT wear any colors, scarfs, shirts etc. from opposition team (you may be denied access to the Stadium without any possibility of any refund)
-Children and families welcome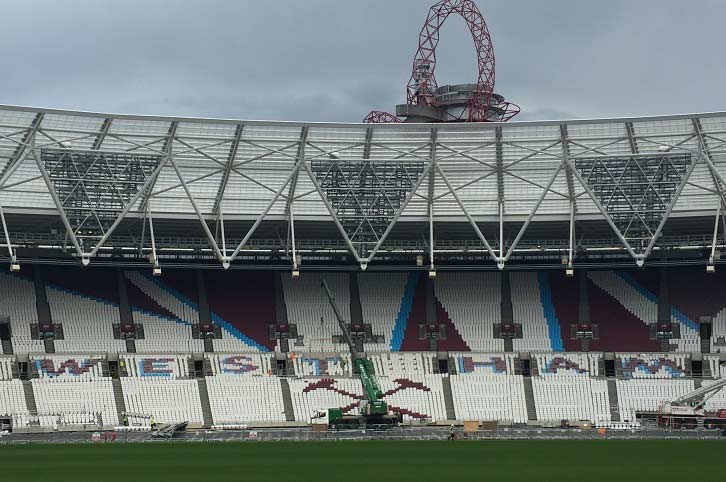 Venue info
Olympic Stadium
Capacity
54.000
Address
Queen Elizabeth Olympic Park,
London E20 2ST,
United Kingdom


View map
Metro
Stratford Station(Central Line + TfL Rail + DLR)
The season is over. Tickets for next season will be on sale in June–. Please check the website for details.