Fulham FC Season 2018-19
Here you can see Fulham's fixture in Craven Cottage this season. We do sell tickets to all below home matches in Premier League and The FA Cup. Click on "READ MORE" to get more information about the game, or click on "BOOK" if you like to book tickets to the game with Fulham in Craven Cottage. Read more about Fulham FC here
Fulham FC was founded in 1886 and is situated in the homonym area in West London.

Fulham are a small club that share the same area as Chelsea in West London. With Chelsea started growing bigger and stronger under Abramovich, Fulham has become somewhat smaller, being past the glory of the early 2000s. As a consequence, local boys and girls often choose to start cheering for Chelsea instead of Fulham. Yet, many tourists visit Craven Cottage to see a Fulham match, due to the low prices and the genuine atmosphere. Those who have been to see a match at Craven Cottage are often surprised by the amazing support that Fulham fans offer their team.

Visit Craven Cottage to experience the English fan culture at its best!
Satisfied customers
We had a great time!
"The process was very simple and everything went smoothly! Too bad West Ham didn't do ..."

(3)

Robert, South san francisco
WED, 12 SEP 2018

See all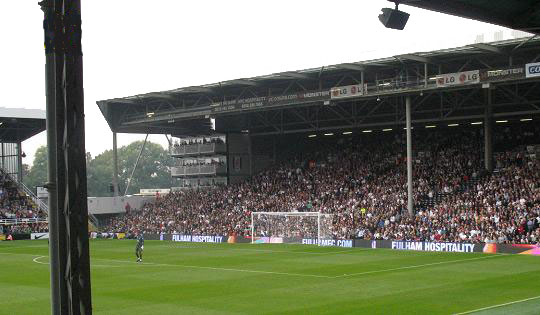 Venue info
Craven Cottage
Capacity
25.350
Address
Stevenage Road,
London SW6 6HH



View map
Metro
Putney Bridge (District Line)
Buslines
C4, 74, 85, 190, 211, 220, 295.